Places
Arizona's Wildly Different Desert Regions
Arizona is the only state in the U.S. that contains four separate desert regions, each with their own environment, flora and fauna.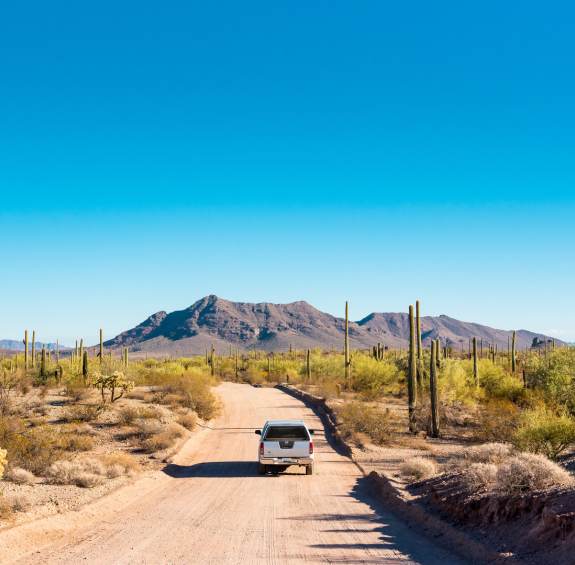 Depending on who you ask, you'll find three—arguably four—deserts in Arizona: the Chihuahuan in the southeast, the Mojave in the upper west, and the massive Sonoran taking up most of the southwest and central part of the state.

The fourth, the Great Basin Desert, either extends south into the Navajo Nation—comprised of the Colorado Plateau—or stops along the Nevada-Utah border. Still others consider that area an entirely separate desert, the Navajoan.
What's certain is that, though they share the name, these deserts are home to vastly different environments.
The Sonoran Desert
Home to an Arizona Icon
Is it dry? Yes. Is it green? Also yes. And during wildflower season from March to mid-April, the Sonoran Desert turns shades of yellow, purple, red, white and pink. It's also here that you'll find that most iconic of Arizona symbols—the saguaro cactus.
The Sonoran Desert also surrounds Arizona's two largest cities, Phoenix and Tucson, making it possible to hike remote desert trails in the morning, explore downtown in the afternoon and relax by a pool in the evening. Multiple national and state parks sit within the desert, as well, with their own trails and camping options.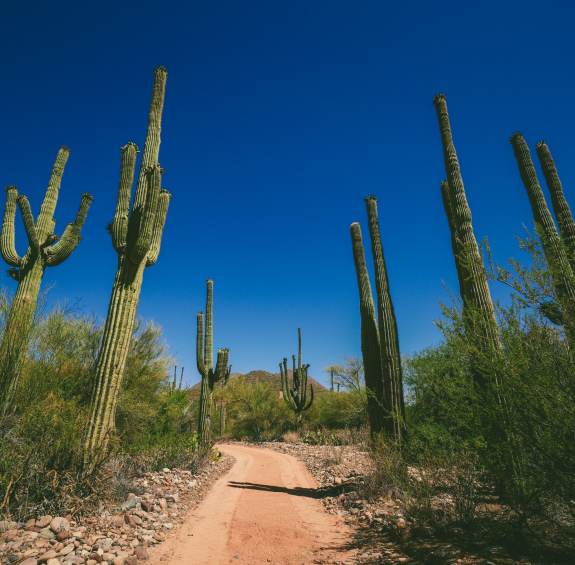 The Mojave Desert
Arizona's Own Joshua Tree Forest
The driest desert in North America, the Mojave crosses the Colorado River from California into northwestern Arizona and sits between the towns of Wickenburg and Kingman. Should you decide to drive from Kingman to Peach Springs and Grand Canyon West, you'll inevitably pass through it. How will you know? Keep an eye out for the forest of Joshua trees that dot the landscape along the road.
The Joshua trees are unique to this Arizona desert and are a favorite photo op for road-trippers.
The Chihuahuan Desert
Hoodoos to Grasslands
Resembling the grasslands of Oklahoma more than the cactus-filled images of a stereotypical desert, the Chihuahuan Desert takes up much of southeastern Arizona, including the cities and towns of Sierra Vista, Bisbee, Tombstone and Willcox. And sitting almost right in the middle are the Chiricahua Mountains, whose sea of pillar-shaped rock formations known as "hoodoos" stretch impossibly high into the sky.

After exploring the waving hills and hoodoos, sample award-winning wine in Arizona's largest wine-growing region, Willcox; walk the Western streets of Tombstone; or get funky in the arts-loving community of Bisbee.
Distinct Regions
Explore Our Deserts